Best Buy Gift Cardholders are enabled to check their card balance easily and securely over the web without going out from the comfort of the home or anywhere else. The service is available 24/7 and can be accessed from any computer or mobile device connected with the internet. Online is the fastest and most convenient way of knowing your gift card balance. However, you can also do it over the phone or visiting a Best Buy store.
Best Buy is the largest specialty retail chain of consumer electronics in the United States and also one of the largest corporations by revenue. The company is based in Richfield, Minnesota, and has nearly 1000 locations. Best Buy offers consumers a large variety of technology and entertainment products along with an expanded assortment of lifestyle products. It internationally operates in Canada and Mexico.
How to Check Best Buy Gift Card Balance Online
So, if you have a Best Buy Gift Card, you can inquire about the credit left on it online in a few simple and easy steps. To begin the procedure, have your Best Buy Gift or E-gift Card ready and then you can follow the guide provided below.
Visit the official Best Buy website www.bestbuy.com and click on the "Gift Cards" link on the top right of the homepage.
After you are directed to the Best Buy Gift Card webpage, click the "Check card balance" link located in a box on the upper right-hand side.
Or, directly land on Best Buy Gift Card balance checking Webpage at www.bestbuy.com/gift-card-balance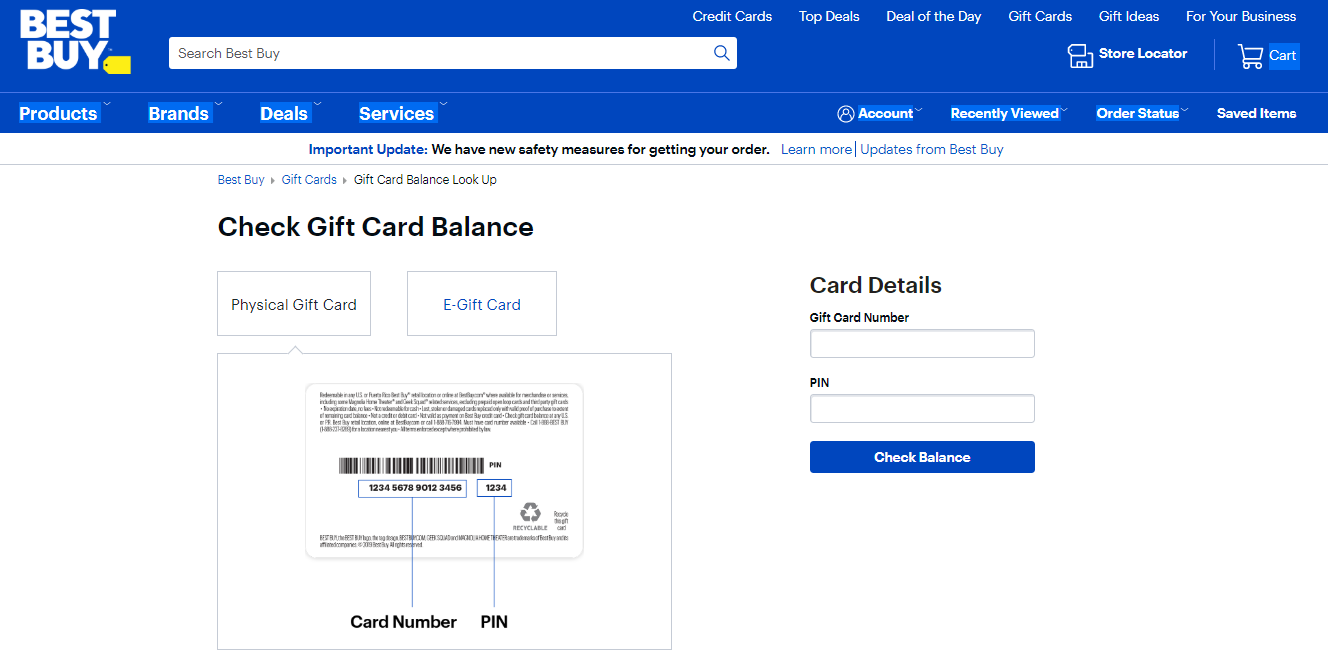 Navigate to the Card Details section on the right and enter your Gift Card Number and PIN from in their specific fields. (If you need help to locate the info on your card, look at the example posted left on the page. Select the Physical Gift Card or E-Gift Card based on your requirement)
Click the "Check Balance" button to see your remaining credit on the card.
How to Check Best Buy Gift Card Balance by Phone
To check your Best Buy Gift Card or E-Gift Card Balance, another convenient way is to use the phone especially when you have no internet access. For that, you can call at Best Buy Physical or E-Gift Card Customer Support Number; provide the card number and other required details to hear the current balance on your gift card.
Best Buy Gift Card Balance Check Phone Number: 1-888-716-7994
How to Check Best Buy Gift Card Balance in Store
You can also visit at any Best Buy retail location in the United States and Puerto Rico and show your plastic gift card or provide the card details from your digital card to a Blue Shirt store associate to check the balance on the card for you.
To find a Best Buy store near your area, you can use the Best Buy Online Store Locator at www.bestbuy.com/site/store-locator. There you can go to the page of each Best Buy store to get the store hours, address, directions, phone number, and other info. You can also search the store in your preferred location by entering the city and state or zip code in the search bar and clicking "Go".
How to Purchase a Best Buy Gift Card Online
Best Buy offers four types of gift cards with a wide selection of holiday, birthday, thank you as well as for special occasions like graduation, weddings, father's day, mother's day and more. Each of them comes with a unique gift card design and festive packaging.
Best Buy gift cards are redeemable in any US or PR retail locations and online at bestbuy.com for eligible merchandise and services. They have no expiration dates, no fees, and are not redeemed for cash. Below are brief guides provided to purchase each type of gift card online.
Physical Gift Card
Best Buy Plastic Gift Cards comes with free 2-day shipping on orders $25 or more. To purchase a Best Buy Physical Gift Card online, you can
Visit the Best Buy website www.bestbuy.com and click on the "Gift Cards" link on the top right of the page.
Entering the Gift Card page, click on the "Gift Cards" box from the left-hand side of the page.
Select an amount between $15 to $500 and the theme of the gift card.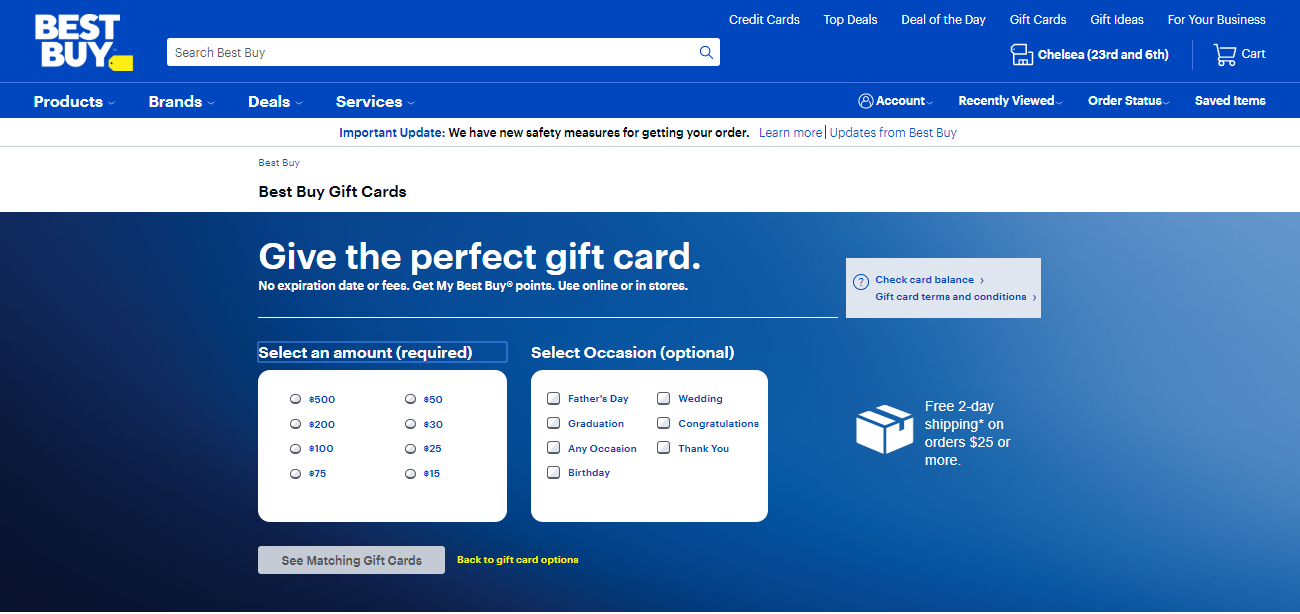 Click on the "See Matching Gift Cards" to choose a card design and then "Add to Cart" button.
Review the product total and check out with your BestBuy.com account or PayPal account.
If your total purchase amount qualifies for free delivery, it will be delivered to your shipping address in two days.
E-Gift Card
You can also purchase Best Buy E-Gift Card. You can have this card within minutes as it comes via email. These digital cards are bought from and distributed by CashStar, a third-party partner, to you. To buy Best Buy e-Gift card, you can
Go to the Best Buy Gift Card page by clicking the "Gift Cards" link from the top right at www.bestbuy.com
Scroll down to click on the "E-Gift Cards" box, the second one from the four types of cards.
Type whom the e-Gift card is for and your name.
Click on "Pick a design" to choose card design from available categories or upload your own photo or other images of your choice.
Select the card denomination and quantity and add a personalized message within 250 characters.
Click on the "Continue" button and enter the recipient's email address and schedule the delivery date.
Click the "Add to Cart" to proceed for checkout or buy another card.
Corporate Gift Cards
To get bulk discounts for your large or small business to reward or thank you for the valued customers and build loyalty, you can use Best Buy Corporate Gift Cards as a powerful incentive. To order Best Buy Corporate Gift Cards in bulk, you can
Visit Best Buy Gift Cards Webpage as mentioned earlier.
Click on the "Corporate Gift Cards", the third box from the row of gift card types
Log in to your Best Buy Corporate Gift Card Account with the registered Username and Password to a place your gift card orders.
If you are a new customer, click on the "Request an Account" button and fill out an online form providing your name, email, company name, business address, telephone number, website, and other details.
Click the "Continue" button and follow the instructions on the screen to finish the procedure.
Your Best Buy Corporate Gift Card Online Account Request can take up to 2 to 3 business days for review. Once approved, you will receive a confirmation email along with account creation information.
After that log in to your Corporate Gift Card account to order cards and choose the delivery method. E-gift cards are emailed within one business days and physical cards are available with standard or expedited shipping.
Specialty Gift Cards
You can also purchase Best Buy Specialty Gift Cards online for gaming, restaurant, movie, music, entertainment, and more. For that, you will need to
Go to Best Buy Gift Cards Webpage
Click on the "Specialty Gift Cards" from the upper left of the page.
Choose your card from available options and click on it. You can search by type, brands, best-selling, and other listed categories.
Check the product details; compare if you want to
Select card format and amount and then click "Save" or "Add to Cart"
Read More: Check Your Cabela's Gift Card Balance Online
Contact Information
Best Buy Physical Gift Card Customer Service Phone Number: 1-888-716-7994
Best Buy E-Gift Card Customer Service Phone Number: 1-855-820-0485
Email Address: bestbuygiftcardsupport@cashstar.com
Best Buy Corporate Gift Card Support Phone Number: 1-877-370-1234
Email Address: CorporateGiftCards@BestBuy.com
Reference:
www.bestbuy.com/gift-card-balance