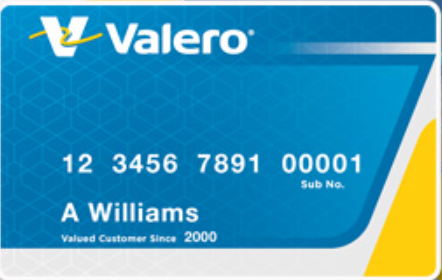 DSRM National Bank issued the Valero Gas credit card. This card can be used when you fill up your gas tank at any Valero gas station throughout the country. You can also purchase any other merchandise or services at a Valero convenience store using this gas credit card. DSRM National Bank credit cards and accepted through Beacon or Shamrock store, or any other retailers.
Valero Gas credit card features and benefits
This card is best for consumers who spend a hefty amount of their income on gasoline.
This card can be used to earn rewards at more than 5,600 locations coast-to-coast.
You can get pay-at-the-pump convenience.
You can manage an account and fuel rebates online with Valero Self-Serve.
Pay your balance each month or choose to pay the minimum, allowing you to revolve your credit.
Gas Cap® credit limit and available credit will be shown on your monthly billing statement.
You can request a review of your Gas Cap® credit limit by calling them at 1-800-333-3560.
You can choose Payment terms.
In order to pay your account in full each month, there will be NO Interest assessed.
This card has been designed to be used for purchasing fuel and/or merchandise, not for cash.
Valero Credit Card Apply Online
If you want to apply for a Valero Gas credit card, then follow these simple steps to apply online.

Then you will be redirected to a new website where you need to fill up a form.
Provide accurate information about your employment and financial status.
Finally, review the fees associated and click on Submit Application.
Eligibility for Applying for Valero Credit Card
Applicants need to satisfy the following requirements by the bank to become successful Valero Gas credit cardholder.
Applicants must have an online account.
You must have a phone number.
Applicants must be over 18 years of age to use the app.
Proof of your residential address.
Fees and Charges
Cash advance fee: None
Cash Advance APR: None
Late fee: $38
Overlimit fee: Zero.
Annual fee: $0.
foreign transaction fees: none
Rewards: Get 4¢ per gallon if you make purchases of 50.0 gallons or more, up to 74.9 gallons and 8¢ per gallon if you make purchases of 75 gallons or more, up to 110 gallons, during any billing cycle of the Program.
Purchase APR: 25.24%
Pros of Valero Gas credit card
Get no membership fees
Earn high rewards rate
Get bonus categories
This card qualifies with fair credit
Cons of Valero Gas credit card
Earn spending caps on rewards
Earn no rewards bonus
Get no intro APR on purchases
Pay high Regular APR.
Valero Gas credit card Activation
Online method
You will need to have an online account first if you choose to activate your card online. But if you don't have any online account then first sign up with details required i.e., bank account details, social security number and date of birth. Once you get online access, follow these steps to activate your card.
Then another page will appear.
There the system will verify your details to "ensure that you are the only person with access to the account".
Provide the last 4 digits of your SSN, Name on Account first name and last name, and your "Account Number" in the given place.
Enter the "ZIP" code.
Then press the Next button.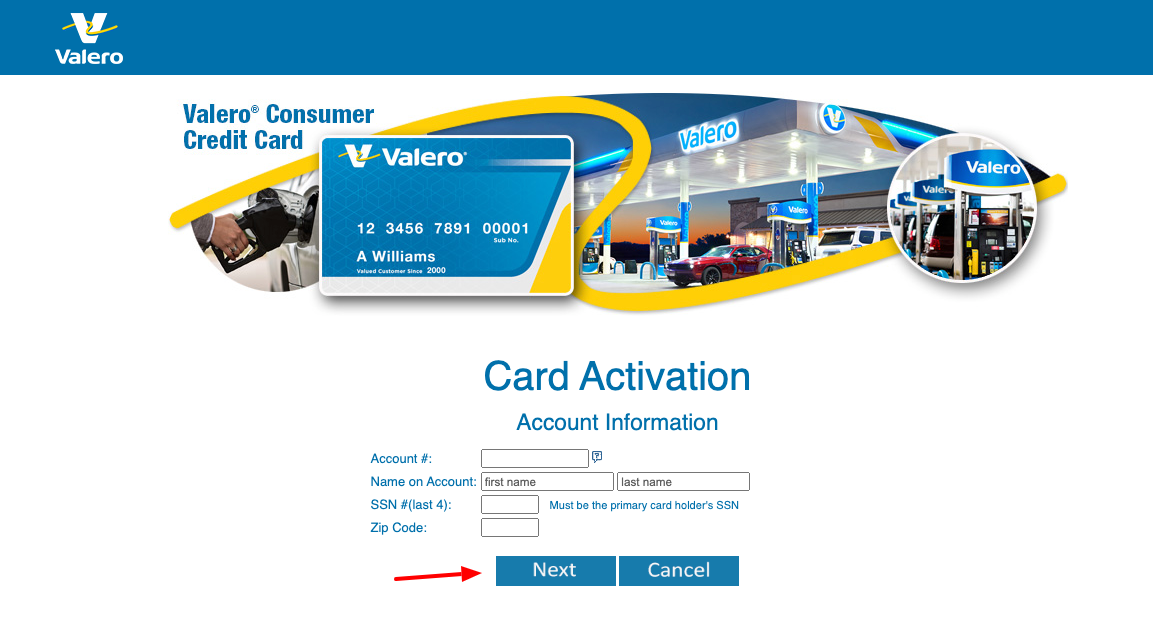 Finally, Follow the on-screen guidelines to complete the card activation process.
Through phone calls
If you don't have any Wi-Fi and still want to activate your card then you can follow these steps to activate your card.
First switch on your Phone.
Then call the number on the back of your card.
Follow the instructions to easily activate your Valero Gas credit card.
You can easily get the number from the "Contact Us" page if you have knowledge of the internet.
For that, you just need to visit the homepage of Valero Gas credit card and select the "Contact Us" option available there.
Now you can enjoy all the maximum perks and benefits associated with the card.
Valero Gas Credit Card Login
First Launch your web browser (Chrome or Safari) on the laptop or computer.
Then you will need to navigate to www.valero.com
The welcome page will appear to click on the Sign In button at the top left side of the page.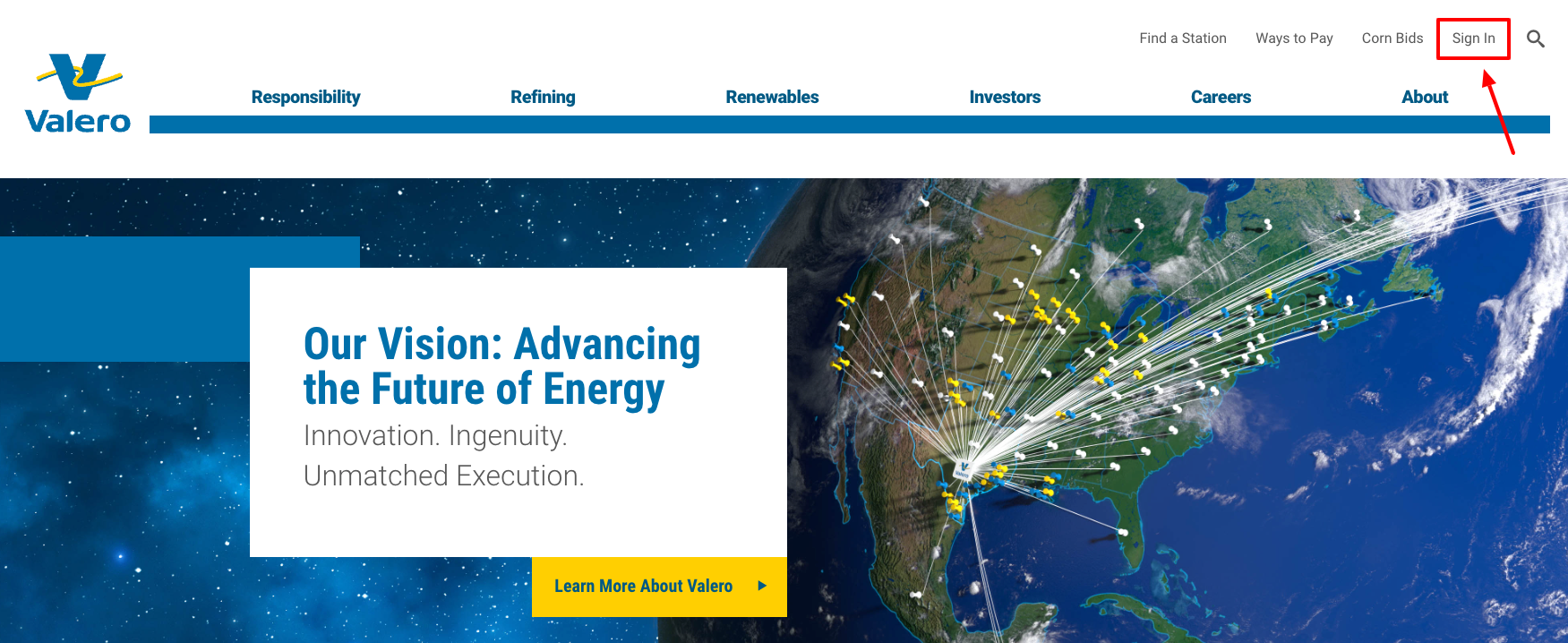 Then under the Credit Card Customer click on Login Here.
Then select your card.
There you will need to provide your login details like user ID
Click on the Sign-in button.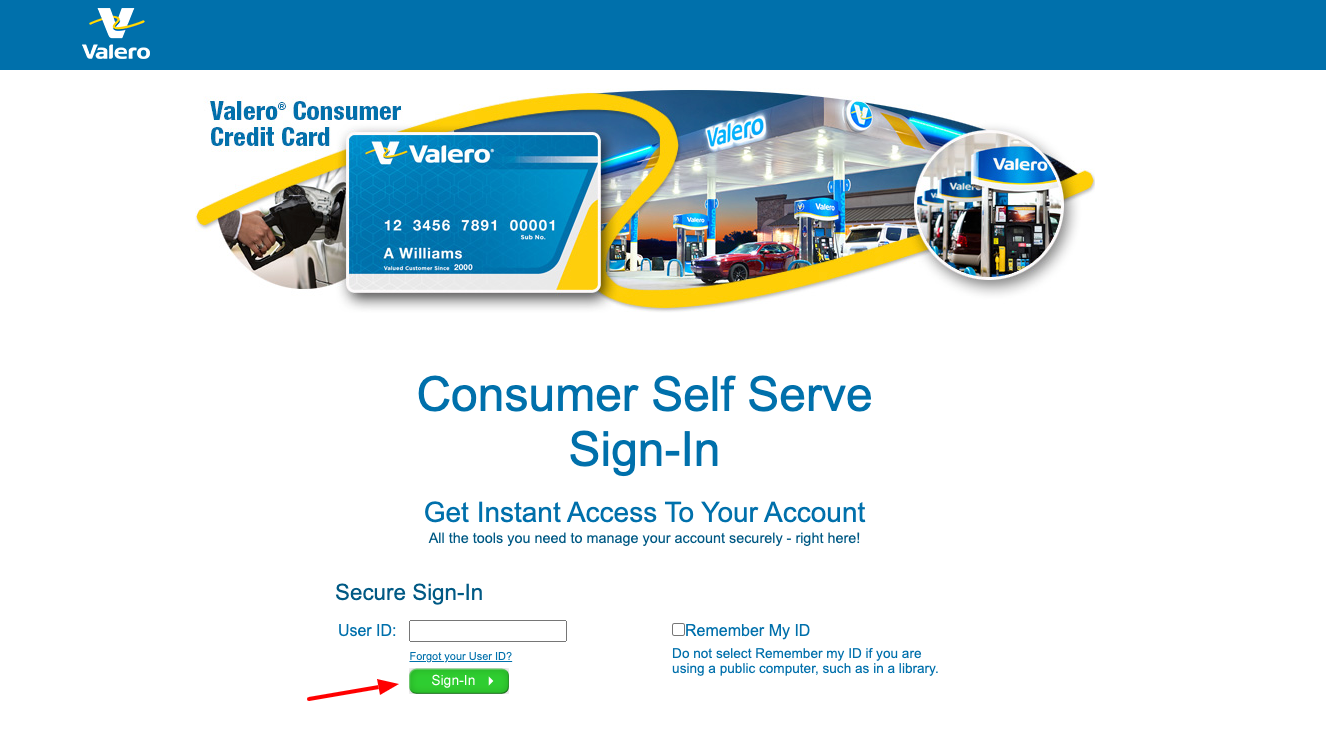 Finally, you are logged in to your Valero Gas credit card account.
Valero Gas Credit Card Password Recovery
You need to follow these simple steps for resetting your user's name or password.
First visit the Valero Gas credit card activation page www.valero.com
Then scroll down to the screen and find the "Forgot your User ID?" link.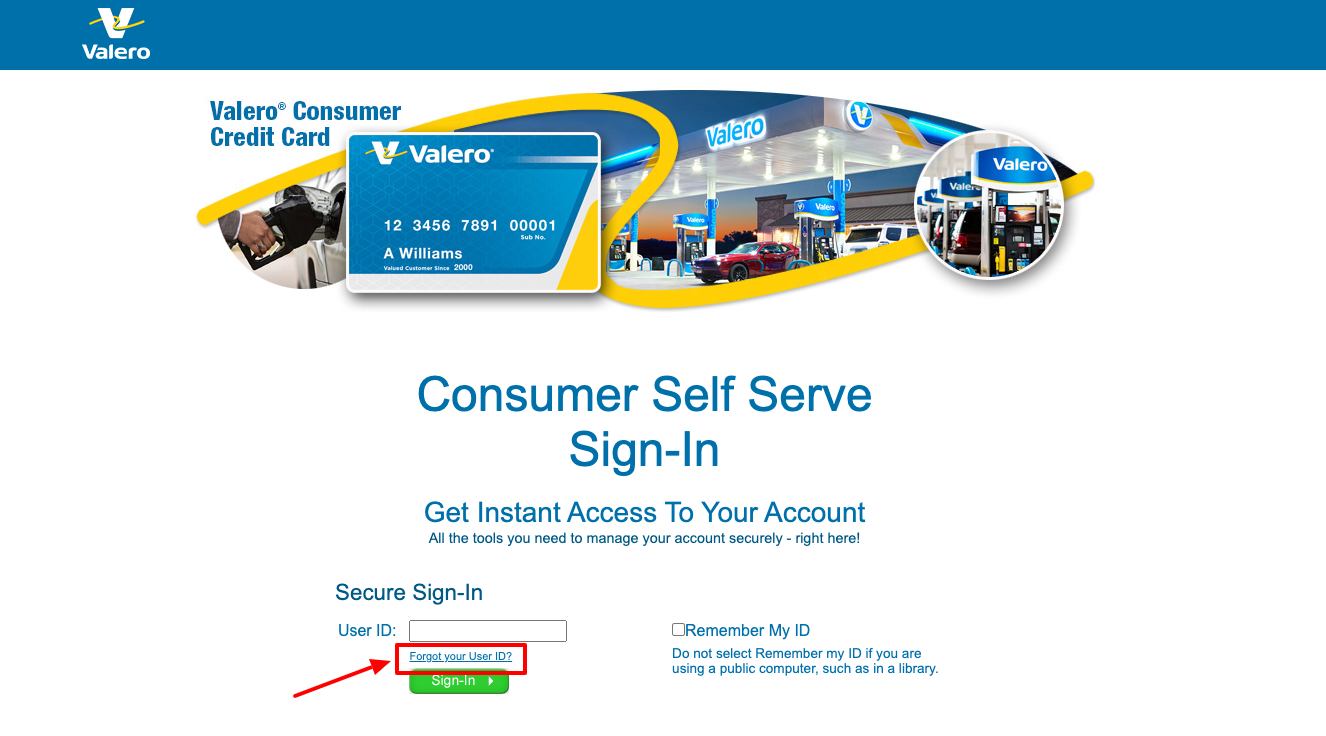 Then enter your account number,SSN, and ZIP code
After that click. OK button.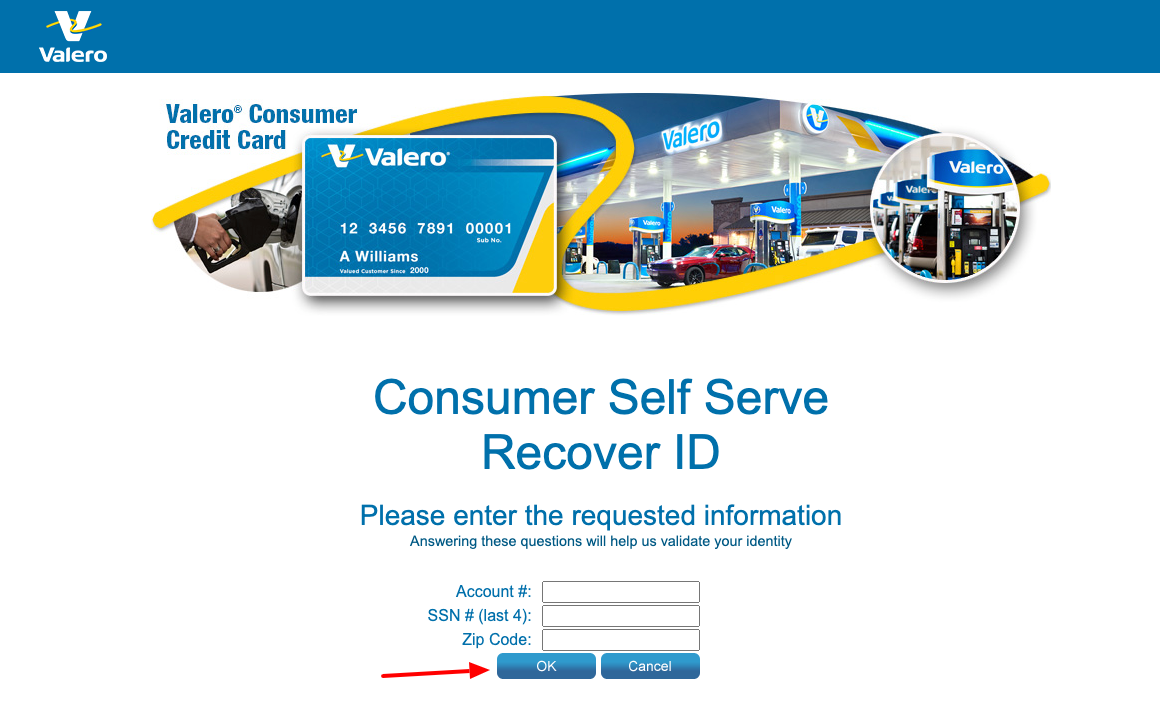 Valero Gas credit card bill Payment
You can use the Credit card website or mobile app for making a Valero Gas credit card payment online.
Online bill payment:
First, visit the login page of Valero Gas credit card www.valero.com
Then provide your user id and password.
Click on the sign-in button.
Once you have logged in to your account click on the bill pay option.
Then choose how much you need to pay.
Then select when you want to pay.
Add a person or company you want to pay.
Click on making payments.
Also Read:
How to Login your Amex Gift Card Account at www.amexgiftcard.com
Activate your HSBC Debit Card Online
Steps to Check ALDI Gift Card Balance Online
Through Mobile app
Open the app on your android.
Login to your account using your user id and password.
select your card.
Click on the make a payment option.
Payment through mail
You need to be sure to send it early enough that it will arrive by the due date. Mail it to their official address.
DSRM National Bank
P.O. Box 300
Amarillo, TX 79105-0300
The physical address for express payment is
Valero Payment Services
7201 Canyon Drive
Amarillo, TX 79110-4339
Call In payment
Call at the number 1-800-333-3560.
Follow the instructions to pay your bill.
Lock your Valero Gas credit card
You just need to follow these few simple steps to lock your card.
Open your account first at www.valero.com
Log in with your credentials.
Select the card you want to freeze.
Then tap on the "Control Your Card" option.
After that press the "Lock or Unlock this card" option there.
Change the settings so that your card is in a locked position.
You can navigate back to the Secure Hold page and unlock your card to use your card again.
Valero Customer Service
You can contact the Customer Service phone number on the back of your credit card.
For general concerns, there is a 24/7 customer support hotline.
Valero Headquarters
1 Valero Way
San Antonio, TX 78249
(210) 345-2000
FAQ:
Where you can use your Valero cash card?
Valero gas credit cards can be used to purchase fuel, merchandise, services, and other permissible items at Valero and other retailers that accept the DSRM National Bank credit card.
What is meant by Valero easy-pay?
Valero Gas credit card offers a safe payment experience combined with discounts at the pump and is free to join. You can save 30¢ per gallon for the first 100 gallons and then continue to save 6¢ per gallon every day thereafter. You can earn Easy Rewards points toward Circle K Cash on purchases in-store and at the pump.
What credit score do I need to get a Valero gas card?
A fair credit score is needed to apply for the Valero Credit Card, and that's a score in the 650s – in range with what most gas-only credit cards require.
Where is your Valero card accepted?
You can use this card for fuel purchases at Valero, Beacon, Diamond Shamrock gas stations and Circle K stores. This is a store card not a network like Visa or MasterCard.
Reference