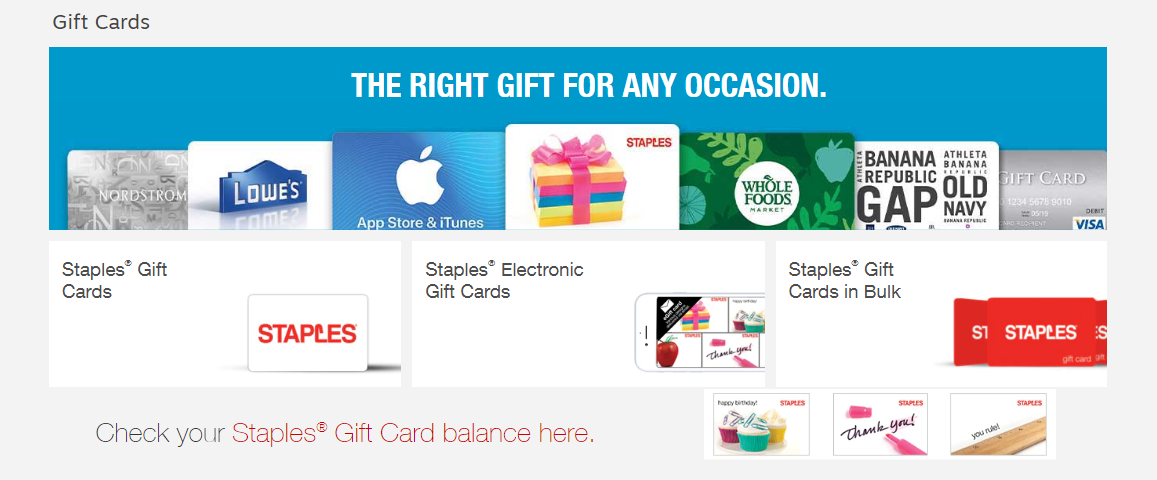 Staples allows its customers to check their Gift Card balance over the web from their computers, smartphones connected with the internet from anywhere at any time.
Online is the easiest, fastest, and most convenient way to inquire about the remaining funds on your gift cards. Staples makes it even easier by providing the cardholders a safe and secure site to do it in a few simple steps.
Staples is a privately held office retail company in the United States. The company is owned by Sycamore Partners and engaging in the sale of office and school supplies and related products through retail stores, online as well as business to business delivery operations.
How to Check Staples Gift Card Balance Online
If you are looking to know exactly how much credit you left on your Gift Card, you can take the following steps provided below. Before beginning, have your gift card ready.
Go to the official Staples Gift Card Webpage Click Here
 Click on the "Check your Staples Gift Card balance here" link just below the Gift Cards section.
Or, you can directly visit the Staples Gift Card Balance Check page at www.staples.com/cc/mmx/giftcard

Enter the Card Number and PIN found on the back of your Staples Gift Card.
Click on the red "Check Balance" button to view the credit left on your gift card.
How to Check Staples Gift Card Balance In-Store or by Phone
Apart from online, the Staples Gift Card users can also check their card balance by visiting any of the Staples stores in person and providing the required details.
To find your nearest Staple location, go to the official Staples website www.staples.com, and navigate to the bottom to click on the "Store Locator" link in the 'Customer Service' column in the left. You will get the detailed location of all Staples stores or search for a particular one using your current location or entering the name in the search box.
You can also check the balance on your Staples gift card over the phone. For that, you can call at 1-888-609-6963.
How to Purchase Staples Gift Card Online
There are several Staples Gift and or E-Gift Card designs and denominations from $25 to $100 available. The cards are redeemable in all US retail locations and online at staples.com. To buy Staples gift cards online, you can
Visit Staples Gift Card Webpage Click Here
Click on the "Staples Gift Cards" link box from the left or scroll down to select a card
Click on your chosen card to view full product details including features, specifications, reviews, and Q&A.
Select the card denomination from the drop-down list, quantity, and choose your delivery method.
Click on the "Add to Cart" button.
You can add other types of cards of your choice to your cart in the same way if you wish before checkout and place order.
And if you want to purchase an e-gift card, click on the "Staples Electronic Gift Cards" from the middle on the Staples Gift Card Webpage. Pick a gift card for you or whom you want to gift. Select the amount and quantity and add to cart to check out. The card will be directly sent to you or the recipient via the Email Address you provided.
To Order In Bulk Online
Staples Gift Cards in Bulk can be used to appreciate people for your business success. They are perfect for employee reward and recognition, customer acquisition, loyalty, retention programs, fundraising events, holiday gifts, sales incentives, meetings giveaway, etc.
The more you buy Staples Gift Cards in bulk for your corporate or educational needs, the more you save with special discounting prices. To initiate the procedure online, you will need to Click Here
Then Click the "Staples Gift Cards in Bulk"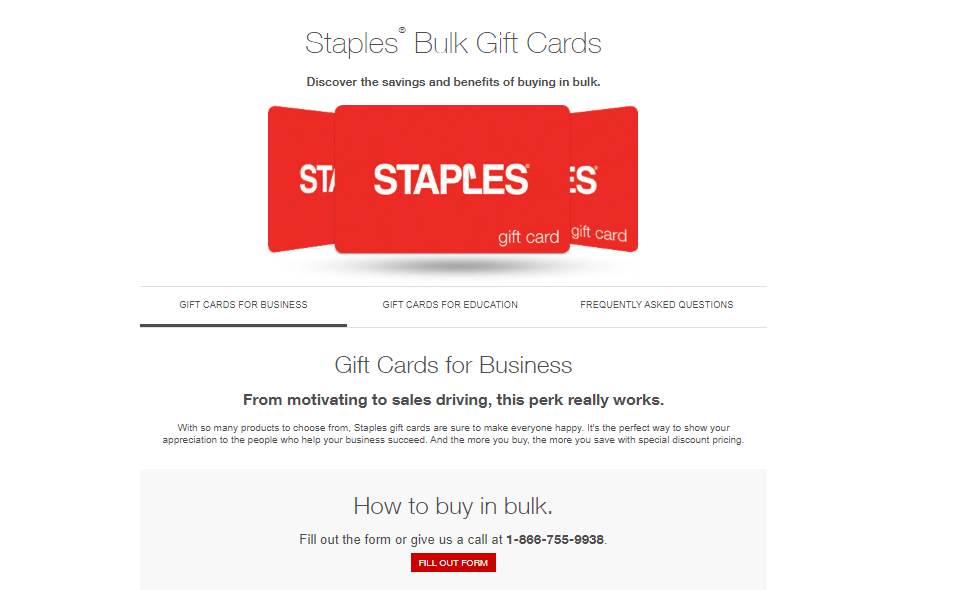 Scroll down and click on the red "FILL OUT FORM" button
A pop-up box of 'Contact Us' will open and you need to enter the required details i.e. your name, email, phone number, zip code, contact method, and company or organization.
Type your email message and about your gift card order including the quantity, denominations, and receiving.
Click on the "Submit" button.
Read More: How to Check Target Gift Card Balance
Contact Information
Staples Gift Card Customer Service Number: 1-866-755-9938
Mailing Address:
Staples Gift Cards
500 Staples Drive
Framingham, MA 01702
Reference:
www.staples.com/cc/mmx/giftcard