Sephora Gift Cardholders are provided with several easy and convenient ways to check their gift card balance. Like as a card owner you can use online to see the remaining credit on your Sephora Gift or E-Gift Card at any time anywhere. Apart from online, you can also do it by calling on the telephone or during your in-store visit to a Sephora location.
Sephora Gift Cards are available in both forms of physical and digital. And they can be redeemed online Sephora Website, Mobile App as well as at Sephora Stores and Sephora inside JCPenney Stores. They do not expire and cannot be replaced if lost or stolen.
Sephora is a Paris based global chain of beauty and personal care with a vast line of products including cosmetics, skincare, haircare, body, fragrance, nail, tools, etc. The company is owned by LVMH and operates more than 2600 stores in 34 countries worldwide with an expanding base of 460 stores across the Americas.
How to Check Sephora Gift Card Balance Online
There are two ways for checking the current balance of your Sephora Gift or e-Gift Card online, with or without login to Sephora. If you shop at Sephora online, you can easily log in to the site and view your gift card balance on your account. And if you are not a Sephora online customer or do not want to sign in to your account, then too, you can check the balance for your Gift or e-Gift Card.
Without Login:
Visit the Sephora official website www.sephora.com navigate to the bottom and click on the "Gift Cards" link located in the 'Ways to Shop' column at the right-hand side.
Or, directly land on Sephora Gift Card Webpage at www.sephora.com/beauty/giftcards
Scroll down to the middle of the page and click on the "Check Now" box next to 'Look Up Balance' under 'Already Have a Gift Card'.
Enter the 16-digits Number and 8-digit PIN from your Sephora Gift or e-Gift Card in the fields on the dialog box that appeared in the middle of your device screen.
Click the "CHECK" button.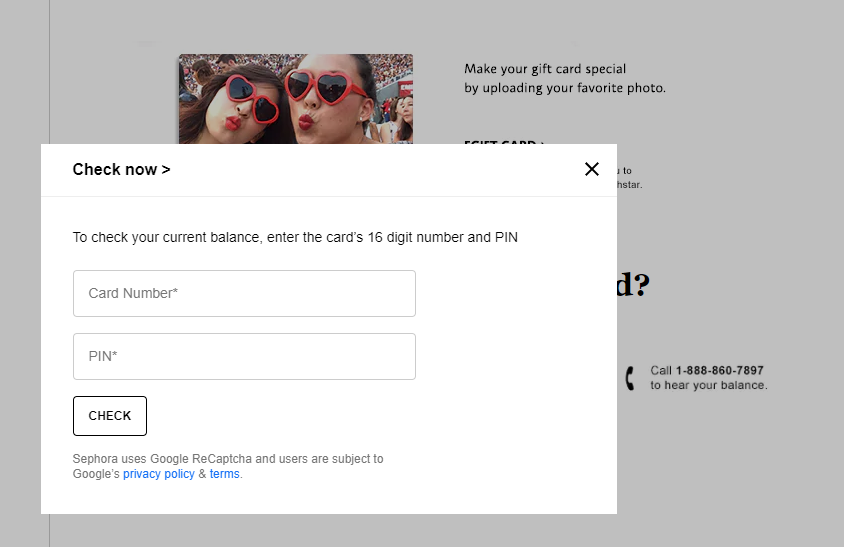 With Login
Go to the Sephora Homepage or Gift Cards Page
Click the "Sign In" button from the upper right-hand side of the page and sign in to your Beauty Insider Account.
Once logged in, locate 'My Account' by clicking on your name on the upper left-hand side of the page
Go to the 'Payment & Credit' section from My Account page and use the provided link to check the balance on your gift card.
By logging into your Sephora Online Account, you can not only view the balance but also the transaction history of your Sephora Gift or E-Gift Card.
How to Check Sephora Gift Card Balance by Phone
Another convenient way to know your remaining credit on your Sephora Gift Card or E-Gift Card is to use the phone service. For that, you can use the following balance check number and provide the required details from your Sephora plastic or digital gift card to hear the current balance on it.
Sephora Gift Card Balance Check Number: 1-888-860-7897
How to Check Sephora Gift Card Balance in Store
A cast member of Sephora stores can check the balance for your Sephora Gift Card. So you can bring your physical gift card or a print-out or mobile device for the electronic gift card to your nearest Sephora store in the U.S. and ask the associate to check the balance on your behalf.
To visit the closest Sephora store in your area and check the balance on your Sephora Gift Card, you can take the help of the online store finder if needed. For that, just visit the Sephora site www.sephora.com, and click on the "Find a Store" link on the top right.
There you can use your location to find a Sephora near you or enter your preferred city, and state or zip in the search bar on the upper left of the webpage for searching. You can also see the complete store list by clicking the link under the map.
How to Purchase a Sephora Gift Card Online
Sephora offers a variety of festive, elegant, and customizable designs of traditional classic gift cards as well as electronic gift cards for birthdays, holidays, weddings, graduations, and any special occasions or just for saying thanks. They can be purchased online for personal use or in bulk for corporate use.

Physical Gift Card
There are three ways to buy a Sephora Plastic gift card. You can purchase a card by visiting any Sephora stores or authorized retailers in the US or Canada; order by calling the Sephora Customer Service Number or online through the website or the Mobile App. To purchase a Sephora Physical Gift Card online, you can
Visit Sephora Gift Card page www.sephora.com/beauty/giftcards
Scroll down the page and select a card of your choice under the 'Classic Gift Cards' section or click on the "Classic Gift Cards" link from the upper left and choose a card under 'Shop More Gift Cards'.
Select the card amount, available in denominations of $10 to $250, and quantity.
Read the reviews, product details, about the brand, shipping, and returning information before you continue to "ADD TO BASKET" to check out.
E-Gift Card
Sephora E-Gift Cards are distributed by CashStar and can only be purchased online. It let the customers make their gift card more personalized and special. To buy a digital Sephora gift card, you can
Visit Sephora Gift Card page www.sephora.com/beauty/giftcards
Click on the "eGift Cards" link from the upper left-hand side or select the E-Gift Card image in the upper middle of the page.
The link will lead you to another site operated by CashStar.
There first you have to select who the card is for. If for friends enter their name as recipient and your name as the sender.
Click the "Pick a gift card" button to choose your gift card design from various categories. You can also upload your own photo or favorite image to make a customized card.
Click on "How much" to select the card value and numbers
Select "Add to Cart" for checkout or add another card to purchase.
The Plastic Gift Cards are available to deliver with Free Standard 1-3 Day Shipping for orders $50 or more. You need to pay $5.95 for orders under $50. Guaranteed 2 business-days shipping costs $10.95 and Guaranteed 1 business day shipping costs $16.95. Also, Unlimited No Minimums Free Flash 1-2 Day shipping is available for one year at just $15.
Sephora e-gift card will be delivered via email on your chosen date. For same-day delivery, it will be sent within an hour of purchase transactions.
Corporate Gift Cards
Sephora Classic and Electronic Gift Cards are also a great option to reward, celebrate wins, build loyalty, increase motivation, and encourage participation or fundraising. Free shipping, volume-based discounts, personalized messages, and customizable gift amounts are also available with it. To order gift cards in bulk, you can
Visit Sephora Corporate Gift Card page www.sephora.com/beauty/corporate-gift-cards
Click on the "Order now" link on the right-hand side of the page
Enter your Business Email Address to register for an account
If you already have an account, log in with that registered Email/User Name and Password and place your order providing the required details.
"Read More: Check Your Chipotle Gift Card Balance
Contact Information
Sephora Customer Service Phone Number: 1-877-737-4672
Sephora Corporate Gift Card Support Phone Number: 1-844-828-5335
Email Address: sephora.gifts@cashstar.com
Reference:
www.sephora.com/beauty/giftcards