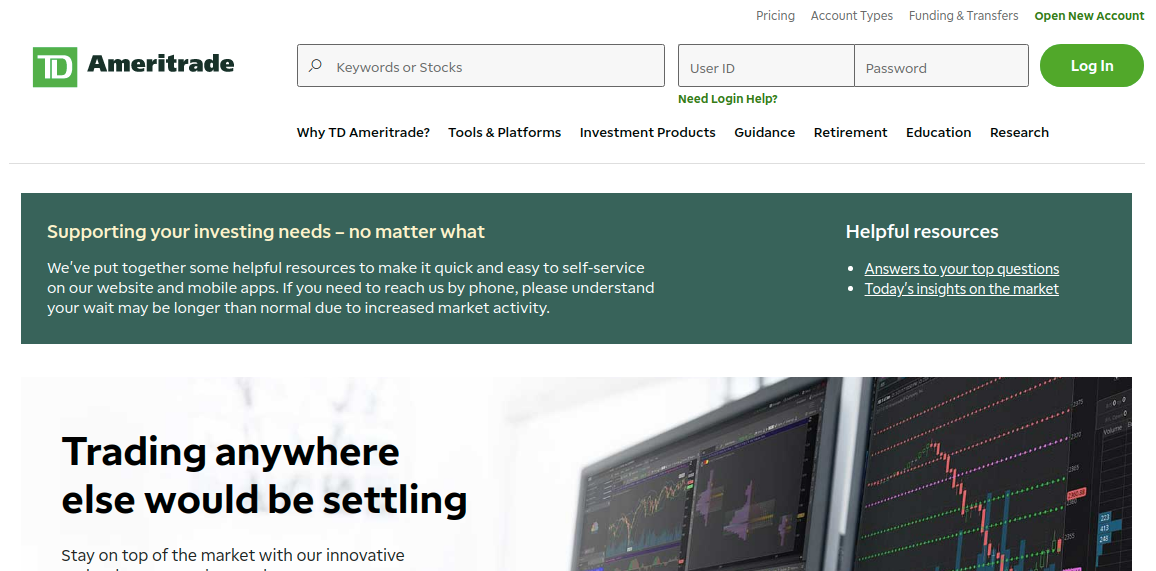 TradeKing vs TD Ameritrade | Online Broker Comparison :
For managing your investments, if you are looking for a good online broker, then you should check the TradeKing and TD Ameritrade. Both are very popular options for the brokerage first with different terms and conditions. In this article, you will discuss the comparison between these two online brokers, which will help you to find out what is better for you.
Price Per Stock Trade:
TradeKing for the stock trades charges $4.95 per online trade. For the option trades, per the contract, you will be charged an additional $0.65. With the TradeKing, you have to pay the charges $20 for for the extra service of broker-assisted trade with the regular commission.
Whereas, TD Ameritrade charged $9.99 for the stock trades. If you are trading options, then you will be charged an additional $0.75 per contract. You will be charged $34.99 per trade for their Internet Voice Response Phone System. The broker-assisted trade charges are $44.99.
The difference between TradeKing and Ameritrade for online trade is $5.04, which is enormous. So, every investor will go for the TradeKing account, when they have to choose between these two online brokers.
Account Requirements:
With the Ameritrade, you don't have to pay the inactivity fees. But TradeKing charges inactivity fees of $50 per year if the previous year you have zero trades. If you trade less than $2,500 in total household assets with the firm, then you have to pay the inactivity fees.
Both of these brokerages do not require any initial deposit while your account to be set up. If you are thinking of opening an account and not making trades, then you should go with the Ameritrade account, if you don't want to pay the inactivity fees. With the TradeKing, if you execute around 10 online trades, still you have to pay less in fees than the inactivity fee from Ameritrade.
Account Options:
With both of the brokerage, you will get taxable individual and joint accounts, Roth IRAs and Traditional, and Rollover IRA accounts. Ameritrade offers the Coverdell educational savings accounts,529 Plans, and UGMA/UTMA account for the minors.
With the Ameritrade, you can trade options, ETFs, futures, stocks, mutual funds, bonds, and CDs in their standard accounts. The investment choices are less common account types such as the 529 plans, Trust accounts, and pension plans.
TradeKing provides a wide range of investment possibilities including the ETFs, mutual funds, options, penny stocks, fixed income securities, etc. Per-share of any stock under $2, they will add a $0.01 surcharge. In penny stocks, they will require a minimum investment of $100 per order.
Also Read : Overview of LendKey vs SoFi Loan Online
Forex:
In the Forex or foreign exchange, investors buy one currency and sell the other. The currencies are traded in pairs, like USD/CNY or USD/EUR. As there is for stocks and futures, you can't find the centralized exchange for forex. So, all the transactions are happening through the electronic network or phone.
You will get the forex transaction in both TradeKing and Ameritrade. Before start the trading with the real money, you will get the practice of forex trading vis TradeKing. TradeKing offers a $50,000 virtual practice account to practice. For the virtual account, you would not be charging any fees to trade and you can choose from 50 pairs of currency.
Ameritrade allows its investors to test their skills by simulating trading stocks, forex, options, futures through their think On Demand platform.
Fund & ETF Investing:
With the Ameritrade, you will get over 100 commission-free exchange-traded funds, plus 34 equity funds, 33 bond funds, 31 international funds, and two commodity funds. However, after purchases one, if you sell it within the 30 days, then you will charge a $19.99 short term trading fee. Here, you will also get the over 13,400 mutual funds with more than 5,500 of them being no-load funds.
But TradeKing does not provide any commission-free ETFs. They offer mutual funds over 12,000 and among them, 4,500 are no load.
For both brokerages, you would not be charging any transaction fees for funds with loads. With the TradeKing, you will be charged $9.94 per trade for buying and selling of no load. Whereas, Ameritrade offers the buying and selling of no-load mutual funds for $49.99 for every trade.
Margin Accounts:
Both brokers, TradeKing and TD Ameritrade provide the margin accounts. The margin account's account minimum is governed by federal regulation. For a margin account, you have to maintain a minimum of $2.000.
Banking:
TradeKing does not provide any savings or checking accounts. But with the Ameritrade's Cash Management account, you will get the free ATM withdrawals without any monthly maintenance fees. You can also get the bill payment and free check writing options with the Ameritrade.
If you want all your investment account and bank account in one place, then Ameritrade wins the round.
Platform:
You can access both TradeKing and Ameritrade over the mobile app and desktop. With the Ameritrade, you will get two lending platform, Thinkorswim and Trade Architect. The Thinkorswim is mainly targeted to the advanced investors and offers the tools with endless possibilities. Trade Architect is mainly targeted toward beginner investors. Both of these trading platforms can be accessed by Ameritrade investors.
TradeKing's trading platform is known as the TradeKing Live. Here, you can access all of your TradeKing's tools, real-time streaming quotes and data, and quite trading capabilities.
Customer Service:
Ameritrade customer service is available 24 hours 7 days. You can contact the Ameritrade over your phone or email. Within the 34 states, there are over 100 branches.
You can contact the TradeKing through live chat and telephone. The customer service hours are available from Monday to Friday from 8 am to 6 pm, ET. Within two hours, you will get the response to an email, during the business hours and 24 hours on the weekend.
Conclusion:
For those, who are looking for a basic online brokerage account, TradeKing is a great option. With the simple interface and lowest fees, it is one of the best online brokerages in the market.
Although TD Ameritrade charges more than TradeKing, it is an advanced trading platform. With the advanced platform, you will get the research offering and other tools, that make it worth of cost.
Reference Link:
TradeKing: investor.tradeking.com
TD Ameritrade: www.tdameritrade.com