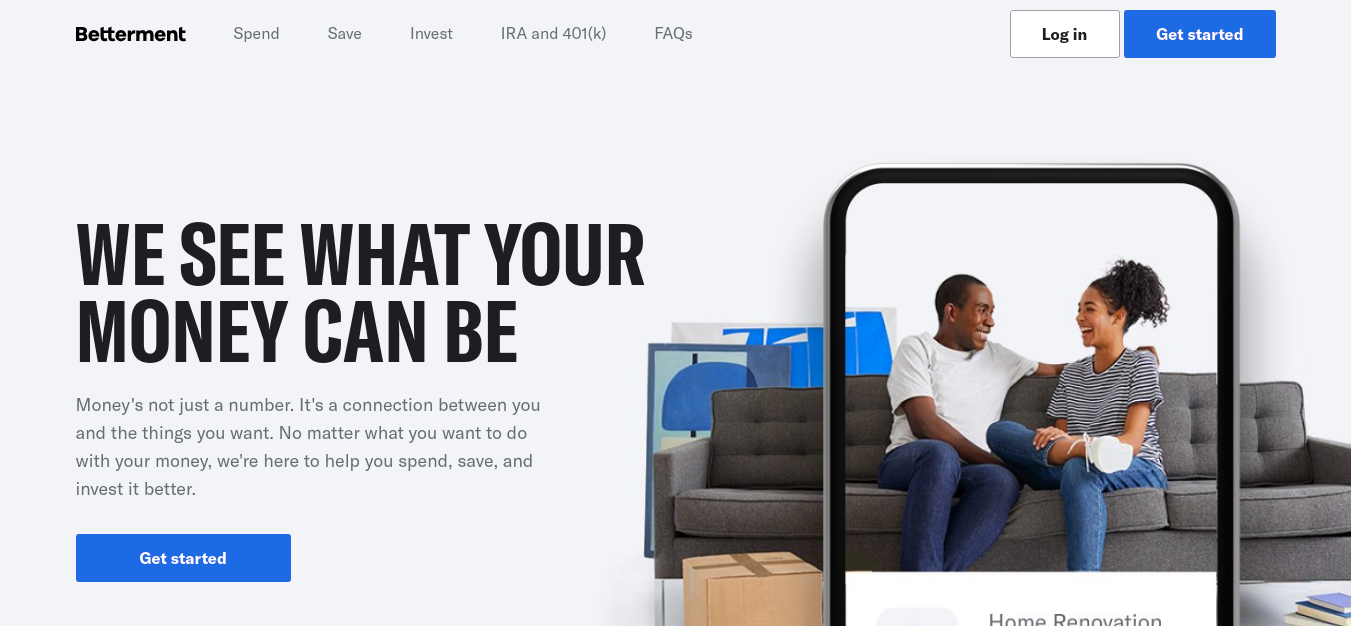 Betterment vs WiseBanyan
Overview
Betterment is one of the largest robo advisors that offer investment advice in exchange for highly transparent fees. WiseBanyan is a newcomer in the field of the robo advisor. In this article, you will discuss what are the basic differences between Betterment and WiseBanyan.
Fees:
Both of these financial advisors do not charge any transaction fees for buying or selling any securities.
In exchange for advice, Betterment charges customers transparent commissions, which will help them to achieve their goals. If your account balance is between $0 to $10,000, then you will be charged 0.35% minimum with the $100 per month auto deposit or $3 per month without an auto-deposit. The larger the account balance, the lower your commission will be. If your account balance is between $10,000 and $100,000, then your commission will be $0.25%. For the greater balance of over $100,000, your commission will be 0.15%.
With the WiseBanyan, you don't have to pay any custodial fee. But here you can earn money from a la carte products. This service was designed in this way to provide personalized value to its clients. If the customer wise, they can choose the paid service. For example, if the customer wise, they can choose the customized portfolio management solutions and only for the annual fee of 0.50% to 1.0%. Also, the client can opt into the WiseHarvesting and they will be charged monthly 0.25% taxable assets.
For both, Betterment and WiseBanyan, you have to pay the ETF expenses rations. You have to pay the built-in cost of the ETFs, even if you are DIY investors.
Account Minimums:
There is no minimum balance requirement for a Betterment account. They will never charge any minimum account fee. But you will be charged $3 per month, for not having a $100 per month auto-deposit.
To start a WiseBanyan account, the minimum balance requirement is at least $1. After your account opening, there will be no minimum balance maintenance requirement.
Account Options & Features:
With Betterment, you will get the joint taxable accounts, trust, and traditional account and SEP IRAs, Rollover IRAs, Roth IRAs, etc. WiseBanyan offers personal investment accounts, Roth and Traditional IRAs, and SEP IRAs. Right now, they are not offering any joint accounts, custodial accounts, or trust accounts.
Betterment with the low fees structure offers several features. In Betterment, you will get the automatic portfolio rebalancing, goal-based investing, and tax loss harvesting. Here, investors can sync their outside accounts, which allows them to see the total net worth. With Betterment, you will also get the Smart Deposits. Using this service, Betterment can invest your extra cash automatically.
Whereas, WiseBanyan offers the goal-based investing service, known as the "milestones". Those milestones could be anything, such as the Rainy-Day Fund, Build Wealth, Retirement, or Custom. Everything you make a deposit, earn dividends, or withdrawal, you will get automatic portfolio rebalancing.
Also Read : Overview of TD Ameritrade vs Betterment
Trading Platform:
Both Betterment and WiseBanyan apps are available on the Android and iOS platforms. Through these apps, you can easily access and manage your account using the secure PIN or Touch ID. You can also access them anywhere you have an internet connection through the web.
Protection and Security:
Betterment and WiseBanyan are part of the FINRA (Financial Industry Regulatory Authority), and SIPC (Securities Investor Protection Corporation. They also protect your personal data using the fully encrypted, state of the art technology.
International Investors:
Neither of these companies, Betterment and WiseBanyan, does not provide account outside the United States. To apply for the account, you have to be a legal resident of the United States and must have a U.S. Social Security Number.
Taxes:
Betterment is mobilized with the TaxAct, H&R Block tax preparation software, and TurboTax, through which the customer can automatically import income and capital gain for the tax return preparation.
Whereas, WiseBanyan is only integrated with the TurboTax.
Customer Support:
With Betterment, you will get the customer service Monday to Friday from 9 am to 8 pm, Eastern and Saturday and Sunday from 11 a.m. to 6 p.m. You can also contact them through email or live chat on their website.
In WiseBanyan you might get it heard to locate the contact details on their website. But you can simply call them over your phone at (646) 593-8359. You can also mail them your quires. You have to mail them at support@wisebanyan.com.
Conclusion:
Both Betterment and WiseBanyan are a significant deal with the zero transaction. For any beginners who are looking for no-frills investing, WiseBanyan's fee-free advice might be a good option. For anyone who is looking for more customer advice and tax loss harvesting without having to opt into a la carte services, Betterment is a great choice. If you want to joint and trust accounts, then you have to go for the Betterment.
Reference :