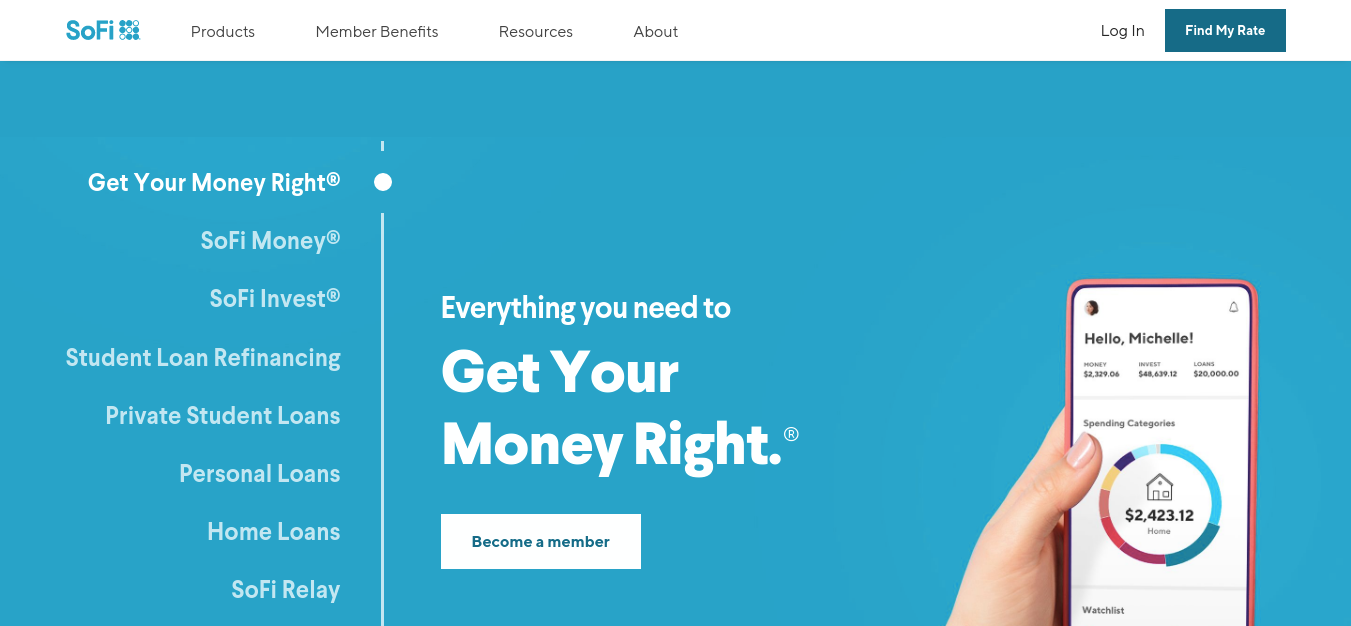 SoFi vs. Laurel Road: Which is Better:
Overview
If you ever search for the student loan refinancing and consolidation, then you might hear about the SoFi and Laurel Road. These two lending companies are one of the largest lending companies in the US. SoFi (Social Finance) and Laurel Road (formerly DRB), are very reputable lenders with some minimal differences.
In both SoFi and Laurel Road, both have the pros and cons. For your student loan, these two lenders might make one a better choice over the other.
How SoFi and Laurel Road are Similar:
Both SoFi and Laurel Road comes with some match up key areas. For student loan refinancing, you will get the most competitive interest rates here. They both charges the variable-rate started at 1.90% APR.
You will get the same repayment terms with both of them. In both cases, you need a bachelor's degree from a respected U.S. university. Both of these lenders do not charge any pre-payment penalties or any origination fee.
The minimum loan requirements for both lenders is started from $5,000. You should go to the federal student loan database for more information about the student loan totals. There you can pull out the database of the student loans. You might find some loans are missing from the list, those would be a privet student loan.
The SoFi Job Placement Advantage:
You will get the job placement advantage with the SoFi, but not at Laurel Road. SoFi student loans come with job placement advantages. To assist unemployed borrowers in finding new jobs, SoFi has hired an in-house team. That might be their revolutionary move from SoFi.
Often people lose their jobs due to several circumstances. The loan company always tries to help the borrowers back to the work. The company provides career coaching, training in interview and resume tips, etc.
SoFi Forbearance Options:
Both companies, SoFi, and Laurel Road provide up to 12 months in forbearance, in 3 months increments. SoFi goes one step further, compared to the Laurel Road.
SoFi Sign Up Bonus:
With the loan, you will get the signup bonus, when you first open your account. There are some permanent sign up bonuses and few come for a limited time. Nowadays, SoFi offers up to $150 sign up bonus when you first open your account as a new borrower.
SoFi Service Advantage:
Some people believe that online borrowers do not offer proper customer support. But with Sofi, you will get the proper customer services and other events. For their members, they also have networking opportunities and common events throughout the country.
SoFi Best for Customers:
You might hear about the SoFi as an amazing student loan, and they are. With the 40% denial rate for the applicants, the company is also picky. SoFi might be a great option for those who have an excellent credit score and high income.
You will also require good bill-paying habits, strong employment records, and low debt to income ratio. Although the debt-to-income ratio is not that important for SoFi loan, but to check your strong monthly cash flow and the ability to pay your loan, they will see your debt to income ration.
Pros and Cons of SoFi Loan:
Pros:
SoFi loans are usually flexible and repayment terms.

If you applied for the autopay, then you will get an additional 0.25% discount.

The interest rates are quite low compare to other lenders.

There will be no prepayment penalties with the SoFi.

You don't have to pay origination fees and no application fees for the SoFi loans.
Cons:
To apply, you will require an excellent credit score and a minimum income.

For student loans to get qualify, the minimum requirements are $10,000.

There isn't any option to remove the co-signer from student loans.

You need a bachelor's degree from a respected U.S. university.

The SoFi services do not available in Nevada.
The Traditional Laurel Road Advantage:
If you are thinking to borrow some money for your student loan from a traditions bank, then Laurel Road might be a great option. Darien Rowayton Bank is a community bank and has its branches throughout the country. It provides low rates of finance for student loans. Since the day they began their program, they have already served more than 12,000 borrowers.
With Laurel Road, you can easily achieve the banking experience. Here you can start at checking account, refinance your loans, and finally manage al the account under the same roof.
But the downside of the Laurel Road is that it requires checking account if you want the 0.25% automatic payment interest rate discounts. To get the same discount at SoFi, you just have to enroll for the AutoPay.
Laurel Road Approval and Funding:
If you want the loan or refinancing approval as soon as possible, then you might not go for the Laurel Road. From the experience of the last borrowers, we can say that for the DRB's loan approval process, they take months. Whereas, SoFi offers the funds on the same day the approval of the issue. So, if you are in such a hurry, then you might consider the SoFi.
Laurel Road is Good Alternative of SoFi:
In case, you are not getting qualified for the SoFi, then Laurel Road might be a good option for you. The requirements for SoFi's loan are fairly stringent, and Laurel Road's are less so. They will also check the debt to income ratio of 40% or less.
Laurel Road has a Specialized Borrower Program:
Because of the specialized borrower classes, you might choose the Laurel Road. They organize special classes for medical students, low, MBA, and as well as some other classes.
Pros and Cons of Laurel Road:
Pros:
No limits for student loan financing.

Service is available within 50 states.

You can refinance 100% private, federal, and parent plus loans.

Flexible repayment terms.

Variable and fixed loans are available with Laurel Road.

There will be no prepayment penalties and origination fees.

For the new loans, you will get the incentives.
Cons:
The loan requirements are $5,000 minimum.

From the refinance loans, you cannot remove a co-signer.

You will require good credit.

A degree from an accredited university is required to get qualify.
Also Read : Acorns vs Stash Choose The Microsavings Tool is Right for You
Conclusion:
Student loan payments can make a big problem, even after college. Although, SoFi and Laurel Road are one of the best refinancing companies in the market, but comes with a minor difference.
If you work in a turbulent industry, then SoFi might be the best choice for you. If you are thinking to start your own business, then also SoFi is a good option.
In case, you don't meet the SoFi's requirements, then you can consider the Laurel Road. You might take advantage of the Laurel Road's program for specialized borrowers if you have in an advanced degree program.
Keep in mind that, you can save thousands of dollars on your student loans just by comparing the interest rates.
Reference :