Berkshire Bank offers the customers to enroll in Online Banking to manage their Accounts online from anywhere at any time across the world. With Berkshire Bank Online Account, the users can access all the features of flexible banking including balance inquiries, fund transfer, online bill pay, mortgage, and loan payment, check deposit, and many more from the comfort of their home or office, anywhere as they wish on their smartphone or computer through the internet.
Berkshire Bank, a subsidiary of Berkshire Hills Bancorp, is the largest regional bank in Massachusetts. It offers banking solutions like checking accounts, savings accounts, mortgage, auto loans, insurance, wealth management, and more. The bank operates 130 full-service branch offices in Massachusetts, New York, Connecticut, Vermont, Pennsylvania, New Jersey, and Rhode Island.
Berkshire Bank Login:
Berkshire Bank Online Banking gives the eligible users real-time access to their accounts on the web. So that they can control their finance at any hour of the day or night. To take benefits of this service ad advantages of Berkshire Online Banking, you will need to log in to Berkshire Bank Online Account. For that, you can
Visit the official Berkshire Bank website www.berkshirebank.com
Click the "LOGIN" button from the upper right of the page
Fill out the User ID field with your Berkshire Bank Online Account username under 'Login' in the right of the drop-down area.
Click "Continue" to enter the password associated with the account and log in.
Once logged in, you can use the Berkshire Bank's Online Banking tools and resources to view your account balance, track activities, receive e-bills, make transfers, place stop payments, send and receive People Pay Payments, communicate with secure email, and more.
Berkshire Bank Online Banking Enrollment:
If you are not yet registered for Berkshire Online Banking, you can do it over the web. Create an online account to access the online banking services offered to you by Berkshire Bank. Here is a brief guide provided to initiate the Berkshire Bank Personal or Small Business Online Banking Enrollment process.
Go to the Berkshire Bank site www.berkshirebank.com
Click on the "LOGIN" button at the upper right hand of the page to open a drop-down box.
Click the "Enroll Now" link under the User Id field to reach the Consumer Internet Banking Enrollment Page.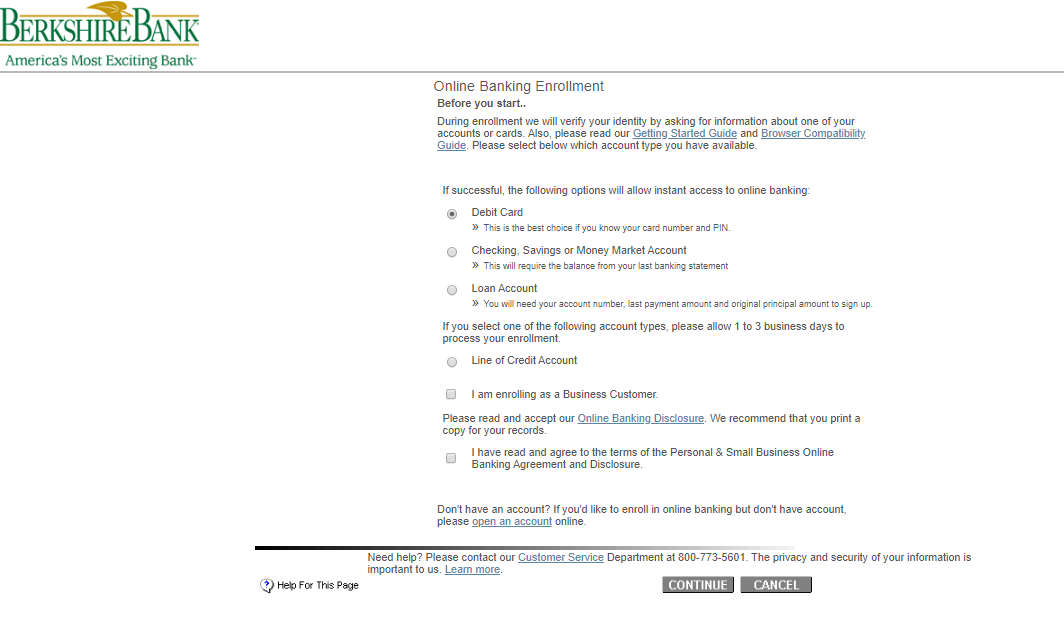 Select one of the account types from the given options
Read the service disclosures and agreements and select the checkbox to accept before you can continue.
Enter your personal information i.e. First Name, Last Name, Social Security Number without spaces or dashes, and Email Address.
You have to input some additional info like your Address, Birth Date, City, State, Zip followed by
Home Phone Number, Mother's Maiden Name depending on your account type.
Provide the required details according to your chosen account type on the previous page. If you select Debit Card, enter the last 4 digits of the Card Number, PIN, and 3-digit CVV or Security Code.
If you want to sign up with one of your Berkshire Bank checking, savings, or money market account, provide the Account Number and the Last Statement Balance associated with that account.
Similarly, you need to provide the account number, last payment amount, and original principal amount for your Loan Account.
Line of Credit Account holders, enter their account number, credit line (maximum amount to be borrowed), and last payment amount.
Click the "Continue" button to verify the submitted information.
After successful verification, you will have the option to set your login credentials like user id, password, security questions, and answers.
"Read More: Community State Bank Online Login Guide
Note that, if you enroll for Berkshire Bank Online Banking with your debit card, loan, checking, savings, or money market account, you will get instant access to your online account.
But you will have to wait for 1 to 3 business days to process the enrollment if you select a line of credit or business account. After that, you are all ready to start managing your money online with Berkshire Bank Online Banking Account.
Contact Information
Berkshire Bank Customer Service Number: 800-773-5601
Reference: